Special Issue from the 2017 Annual meeting, March 2–3, 2017, Amsterdam, The Nederlands (Read more...)
European Journal of Geography
The publication of the European Journal of Geography (EJG) is based on the
European Association of Geographers
'
goal to make European Geography a worldwide reference and standard. Thus, the scope of the EJG is to publish original and innovative papers that will substantially improve, in a theoretical, conceptual or empirical way the quality of research, learning, teaching and applying geography, as well as in
promoting the significance of geography as a disci
pline. Submissions are encouraged to have a European dimension.
The European Journal of Geography

is a p
eer-re
viewed open access jo
urnal. A
rticles and book reviews are
published under free licenses, and anyone is allowed to read, download, copy, and distribute them.
Contributions to the EJG are welcomed. They should conform to the

Instructions for Authors

and submitted

electronically

, while books for review should be sent to the editor. The content of this journal does not necessarily represent the views or policies of EUROGEO except where explicitly identified as such.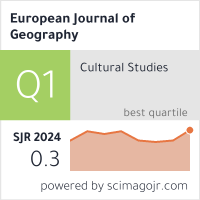 "A fine journal with excellent and widely cited papers on European geography"
The SCOPUS Evaluation Team
© EUROGEO, 2010
The European Journal of Geography is published by EUROGEO - the European Association of Geographers (
www.eurogeography.eu
).
Current Issue
Assessing the instability and shifting character of the River Bank Ganga in Manikchak Diara of Malda District, West Bengal using Bank Erosion Hazard Index, RS and GIS - Sujit MANDAL
Challenges of food security in rural areas using grounded theory approach in Ravansar County, Western Iran - Davood JAMINI, Abbas AMINI, Hamed GADERMARZI, Jafar TAVAKOLI
Current migrations into coastal zones of Benin: motives, ecological consequences and social realities - Oscar TEKA, Romeo Brice K. CHABI, Mosunmola Lydia ADELEKE, Joachim VOGT, Caroline KRAMER, Brice SINSIN
An evaluation of serious games and computer-based learning on student outcomes in university level geographic education - Daniel ERVIN, David LOPEZ-CARR
Peculiarities in the development of special economic zones and industrial parks in Russia - Sergey SOSNOVSKIKH
Temporal trend in daily rainfall intensity in a changing climate in the Middle Belt Region of Nigeria - Johnson O. MAGE, Bernard T. TYUBEE
Spatial-temporal modeling of land-vegetation degradation, using Weighted Overlay Index Model. A case study on Nineveh Province, Iraq - Zahra JAHANTAB, Ali Asghar ALE SHEIK, Ali Darvishi BOLOORANI, Hossein TEIMOURI
Volume 8, No 4, 2017